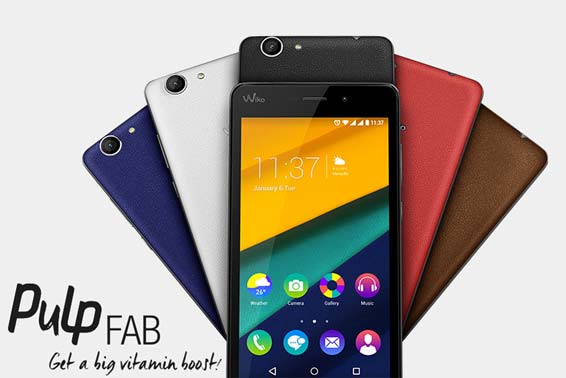 Wiko Mobile Starting 2016 by Preparing Octa-Core Smartphone
Wiko Mobile Indonesia will soon release its new smartphone in this early 2016. Pulp Fab, this new octa-core smartphone will mark the first step of Wiko Mobile Indonesia to take part in Indonesia's smartphone industry.
Supported with advanced technology and features, Pulp Fab brings optimism for Wiko. Beside its octa-core processor, this smartphone also has 2 GB RAM. Combination between the two will produce powerful performance for users to easily operating Pulp Fab various aplications and multimedia.
Dwi Lingga Jaya as Wiko Mobile CEO says that Pulp Fab targeting a wider and higher segmentation. From entrepreneurs, yuppies and youngsters.
In camera sector, Wiko Mobile is brave enough to compete the industry with front and back cameras in top quality. Each one has 5 MP and 13 MP resolution, in hope to spoiled all the Wikonauts-that is how Wiko calls all the Wiko Mobile users. Not only that, Pulp Fab also has 5,5 inch screen wide, in high-definition (1280x720 pixel).
Wiko Mobile never forget to always create something new, and with Pulp Fab, they offer a new feature called Floating Video Player. With this feature, users can enjoy watching a video while opening other application at the same time. To make it more simple, user can minimize the video on-screen and opening other application on screen.
Pulp Fab also has an amazing elegant design which combines premium metallic frames effect with a soft leather back cover.
"What has been exposed is just a part of what Pulp Fab could offer, there are still many other features in this smartphone. And the good news is, you can have this stylish and brilliant smartphone in affordable price," said Dwi Lingga.
Wiko Mobile CSO, Sung Khiun, also explained that Wiko Mobile already preparing a special promo for Pulp Fab.
"There's a special offer from Tri, one of the most respectable GSM providers in Indonesia."
tekno.liputan6.com
Related products
Other articles in this section: